Return Policy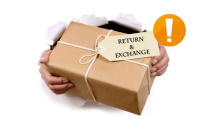 Please contact us within 14 days if the item has any problems.
We can NOT accept returns after 14 days. Unless the item is defective or
wrong item, the buyer is responsible of paying return shipping cost and
we refund the cost of item ONLY. The shipping cost is not refundable.
Also, please be advised that the item has to be returned in the original
condition with all the package and paperwork if any.
PLEASE NOTE:

Please make it sure you return the item by the due date.
Items must be back within 3 days from the date of claims for returns.
We reserve the right to refuse the claims for the returns after the due
date.
Any items returned after the due date cannot be refunded even the shipment
fees.

※Please give us the tracking number as soon as possible when you send back
the item.
※We will ship an alternate product or issue a refund after we receive the item.
COVERED:
1. You received the wrong item.
2. The item is not in the same condition as how it appears on the product
page.
3. The item was broken during delivery.
※In cases where damage has occurred during shipping, please contact us
within 3 days.
NOT COVERED:
-Not contacting us within 2 weeks after you've received the item.
-The item is sold as junk.
-Differing opinions.(Leak, strange sounds, vibration, or feeling of handling)
-Surface condition(Scratches or rust)
-Expendable supplies
-The item has been tampered with.

(The conditions of the items are different from when they were sold.)
-Parts of an item are missing.(Including manuals)
-The item is broken or has scratches after use.
-The item was modified by the customer or at an unlicensed workshop.
-The part is overworked after being fitted.
-We cannot confirm that the parts inside are ours after we have dismantled the product.
-Product deficiencies due to errors with mounting processes or adjustments.
-Improper car maintenance(ie. oil change, timing belt, etc…)
-Natural disasters, car accidents, and theft
-Expendable supplies are missing.(Please prepare the parts by yourself.)
Cancellations
Bidding Cancellation
Please contact us during business hours.
We can not accept cancellations during after-hours trading.
Please let us know the item#, item name, and your account.
Please contact us by e-mail directly or call since contacting will take longer.
For customer convenience
1. Please contact us within 2 weeks after you receive the items.
2. With returns, the customer will defray the postage.
3. We will refund the item price ONLY. (We will deduct transfer commission.)
4. If you cancel a deal, your evaluation will be listed as "VERY BAD".
After a successful bid
We can not accept a cancellation after a successful bid.
If you cancel a deal, your evaluation will be listed as "VERY BAD".